Let's see... in my
Division Series predictions
, I nailed the AL picks exactly (even predicting the number of games correctly for each), but I totally blew the NL picks. I'm disappointed that I forgot how good the NL West was this year as a whole, which will happen when all the division's press is about
the shitty team
.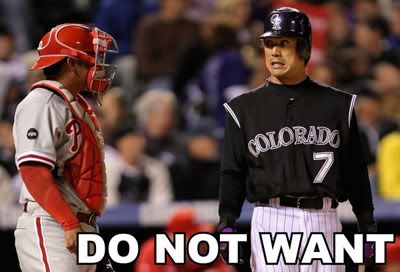 Colorado Rockies in 6.
Arizona is quietly impressive, but it seems like every year the blazing hot wild card team finds a way into the World Series. Plus I refuse to pick a team with a closer who acts like he caught a two-outer on the river every time he gets an out. Seriously,
Jose Valverde
, I'm not a big fan of Ritalin, but for you I'll make an exception.
Boston Red Sox in 5.
I can't wait for the game in Cleveland when the
Canadian Soldiers
come back to Jacobs Field, and all die a horrible death on the Red Sox's pine tar-coated helmets. The Boston relief pitchers might want to wear them while they are pitching too, just to be safe.