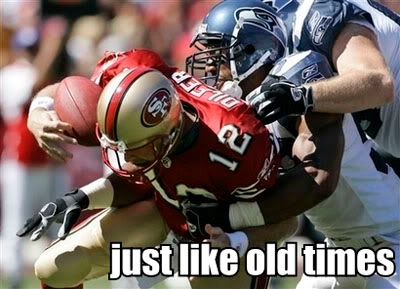 49ers +3.5 VS Ravens:
This will be the second consecutive game that Trent Dilfer faces a team he once quarterbacked. You may remember last week when Trent refused to leave the Seahawk sideline until Mike Holmgren looked into his eyes and said that he didn't love him anymore... this week expect Dilfer to stand on the Niner bench holding a jukebox blaring "In Your Eyes" by Peter Gabriel over his head in Brian Billick's direction.
Chiefs +2 VS Jaguars:
Say hello to Dwayne Bowe, the most added fantasy football player this week thanks to his coming-out party (164 yards and a touch) against San Diego. Of course, I had grabbed him off waivers the week before, but I didn't start him because I thought that David Carr might want to throw the football Steve Smith's way every once in a while.
Patriots -17 VS Browns:
Yes, I will jump on board the "Give the points, take the Patriots" bus that
everybody and their gambling degenerate mother
is on. I'm surprised this line hasn't jumped to -28 already.
(By the way, if you have to click
this link
for the above reference, shame.
SHAME.
)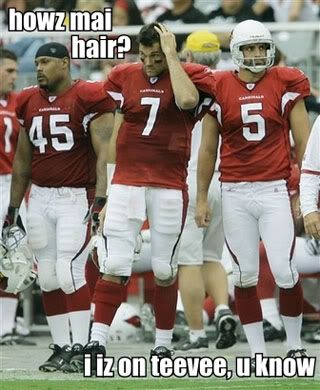 Cardinals -3.5 AT Rams:
This picture is awesome for multiple reasons... first, this is the second photo of Leinart I've done where he's
grabbing his head like so
. It's either a very odd coincidence, or Matty has a brain tumor that he doesn't want us to know about (brain tumors are not HOTT).
Second, look at Leinart's teammates in the photo... they both look like they are afraid that they'll accidentally get into a conversation about how Paris Hilton's twat smells funny.
Last Week: 3-1
Season: 10-7