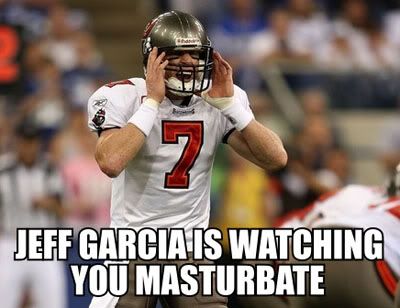 Buccaneers +2.5 AT Lions:
In case you haven't noticed, I am 1-5-2 in the past two weeks of NFL LOLpicks. Nothing like blatant homerism to end a losing streak, right?
(And no, if Jeff Garcia were actually watching you masturbate, he wouldn't be grinning from ear to ear. I don't give a damn if he
kissed Jeremiah Trotter
during a Sunday night game last year... he's not gay.)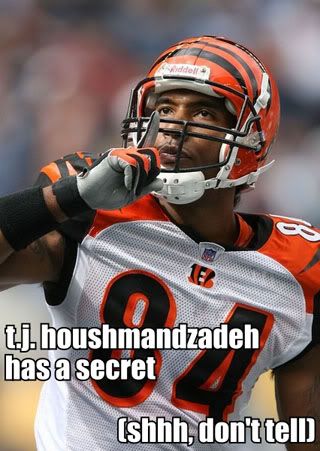 Bengals -6.5 VS Jets:
Through six games, the Jets have scored 17 points per game. Meanwhile through five games, the Bengals have scored 25 points per game. I'm a math major!
(I can only hope that T.J.'s secret is less disturbing than
Adam Sandler's secret
.)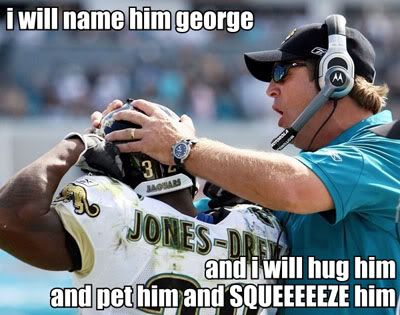 Jaguars +3.5 VS Colts:
One of the saddest developments of this year's fantasy football season is the recent resurgence of Maurice Jones-Drew, which means I can no longer make fun of my roommate, a Jacksonville fan who drafted MoJo ahead of Joseph Addai, Brian Westbrook, Willie Parker... oh, and Tom Brady.Thanks, Maurice, for not waiting a couple more weeks to stop sucking.
Patriots -17 AT Dolphins:
I was very close to picking Miami to beat the spread in this game, but then I found this retarded picture of Randy Moss. And I researched and found out Miami's defense gives up 30 points a game.
Last Week: 0-3-1
Season: 11-12-2