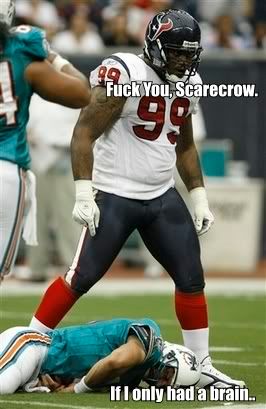 I admit, at the start of this NFL season, I made a few "Is Trent Green concussed yet?" jokes. It's a relatively easy joke, like "Brady Quinn is gay," or "Gus Frerotte is starting this week."
But seriously, Trent Green. Again?
And on a stretcher to add to the visual?
Anywho, it looks like this concussion will
probably end Trent's career
. Maybe he can join the panel of NFL Live and have drooling competitions with Merrill Hoge. Meanwhile, I need a new easy medical-related NFL joke.
So, has Chris Simms had his spleen knocked out of his body again yet? Those grow back, right?
Image done his damn self by John M.