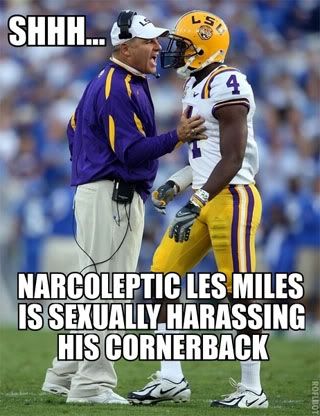 Kentucky 43, LSU 37:
Running up the gut on 4th-and-2? Bad call in my opinion. But even worse, Les Miles' decision NOT to go for two in the first overtime. After pulling out all the stops against Florida, you're three yards away from winning the game, and you don't take the shot? Dance with what brung you, Les!
Oregon State 31, California 28:
I am a little disappointed. I was getting used to seeing a Top 5 team from the Pac-10 lose at home to an unranked opponent, but I guess that's not going to happen next weekend. The streak ends at two.
So naturally with the top two teams in the country going down, who assumes the reins of number one? The best team in a weak-ass conference. By the way, there are only two Big Ten teams in the Top 25, and one of them got beat by a Division 1-AA school. If Ohio State plays for the national championship against Boston College (potential champion of the ACC... also with only two ranked teams), we are all damned.