Jaguars +3.5 AT Broncos:
Might as well take the points, considering the only way the Broncos seem to win these days is by last-second field goals.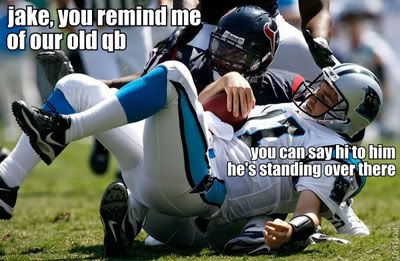 Panthers -4 AT Falcons:
Just to let you know, Matt Schaub has only been sacked twice so far this year. I believe that David Carr has fallen over on the Panthers' sideline at least three times in that span.
Cardinals +8 AT Ravens:
Philosophical question... is Ray Lewis scarier than herpes?
Redskins -4 VS Giants:
Clinton Portis should totally do a mid-week interview as a
lolcat
. If anything, it's a good excuse to eat a cheeseburger.
Last week: 2-2
Season: 4-5