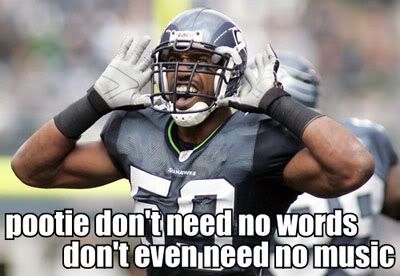 I was checking out
12 Seahawks Street
(who have an
occasional Seahawks LOLjocks gallery
) where I found this picture of Seahawks linebacker Julian Peterson (by Chris Joseph Taylor of the Seattle Times). It immediately reminded me of one of the funniest scenes from
Pootie Tang
, which you feel a lot better watching when you are stealing cable.
Since you, the reader, may not have seen
Pootie Tang
(fucking movie snobs), I have provided the clip for you. Tell me that's not comedy gold. How this movie didn't win eight Oscars, I have no idea.