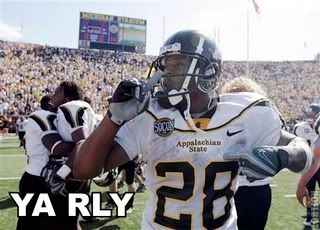 As an alumni and fan of the Florida Gators, I was undoubtedly amused when the Michigan Wolverines, a football team who believed that they, not the Gators, should have played for the BCS championship last year before getting destroyed by USC in the Rose Bowl.
So of course I was downright giddy on Saturday hearing that Michigan had lost to back-to-back 1-AA champion Appalachian State 34-32 (while watching Florida dominate 1-A school Western Kentucky).
To commemorate the event, here are some LOLjocks that reader Marty sent in. Enjoy your Labor Day, non-Michiganders.
(UPDATE: This one was actually sent in by reader Jason... my bad.)