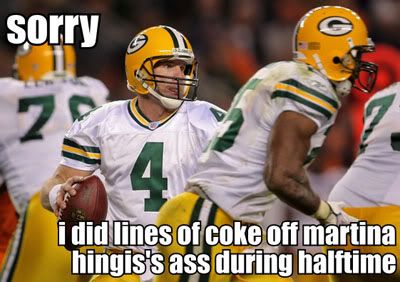 Packers +2 AT Chiefs:
I'm just kidding, Brett Favre doesn't do cocaine. It's good to see that he was able to beat drug addiction and pass it on to
Andy Reid's kids
.
Browns -1.5 VS Seahawks:
"Horse Balls"
is an awesome nickname. Ten times better than
"Pussy Hands."
Bills -1.5 VS Bengals:
I agree with Marshawn Lynch completely
when it comes to Applebee's
. The Chicken Fajita Rollup is solid. And it don't get no better than solid.
And finally...
Patriots -6.5 AT Colts:
I see this game ending 40-ish to 14. Why? Everybody seems to forget that Peyton Manning was TERRIBLE in the playoffs last year until midway into the second quarter of the AFC Championship. So he maneuvers an 18-point comeback and all of a sudden he's a lock to win the big game?
As for the Patriots, well, it's obvious that they are getting a little extra help.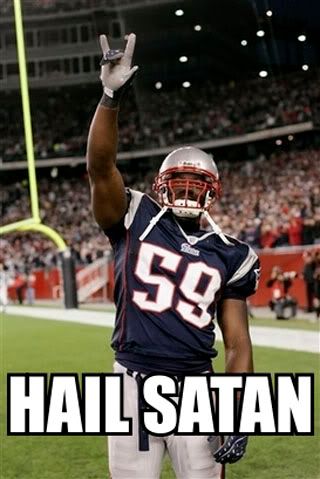 Last Week: 2-2
Season: 15-16-2