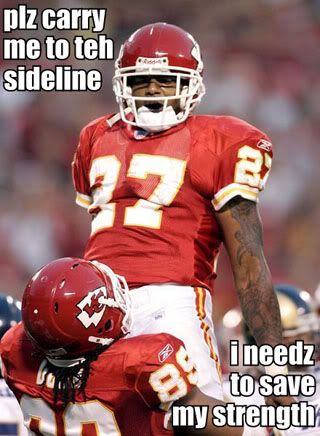 Larry Johnson finally reported to Kansas City Chiefs training camp today after
signing a six-year extension
with $19 million guaranteed. Head coach Herm Edwards celebrated by running 500 consecutive run plays in full pads. Enjoy your wheelchair, Larry.
In other NFL news today, Linebacker Jeremiah Trotter was
released by the Eagles
today, who suggested that he consider retirement. At the age of 30. I can't imagine anyone being asked to retire when they are thirty (except for Jay Mohr).
And finally,
Eli is pissed
!
Turns out he's not too happy with Tiki Barber criticizing Eli's leadership... even mentioning a speech at an offensive meeting, saying, "Sometimes it was almost comical the way that he would say things."
Come on, Tiki, what's so comical about this speech?
If that doesn't fire you up, you need to check your pulse, Tiki. Or quit football and hang out with Cris Collinsworth.
Eli pic from With Leather, others from Yahoo! Sports