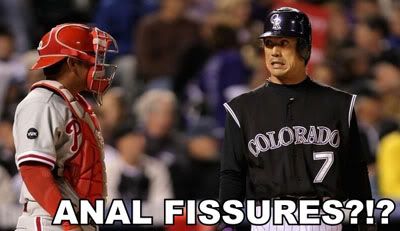 This is a retread of an old picture of Kaz Matsui (he's with the Astros now), but if
someone told me that I had anal fissures
, this would probably be the exact expression on my face.
According to the Fanhouse post:
An anal fissure is an unnatural crack or tear in the anus skin. As a fissure, these tiny tears may show as bright red rectal bleeding and cause severe periodic pain after defecation. [...] Most anal fissures are caused by stretching of the anal mucosa beyond its capability. Various causes of this fissure include:

* Straining to defecate, especially if the stool is hard and dry
* Severe and chronic constipation
* Severe and chronic diarrhea
* Crohn's disease and Ulcerative colitis
* Tight sphincter muscles
* Anal intercourse
... so be good, for goodness sake! YEAH!